Want to apply for this work? Sign up below.
Let the host know you have the skills they need and available when they need you.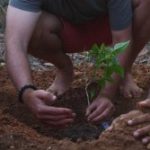 Click pic to see host profile
Help grow a forest in Tamil Nadu in the south of India!
Our main project is the reforestation of 70 acres of severely eroded land. We are working to re-create the Tropical Dry Evergreen Forest indigenous to our area. This forest type is found only in Southern India and Sri Lanka and provides a rare biological richness due to its very high species abundance (over 1000 species of trees, shrubbery and liana). The Tropical Dry Evergreen Forest is now close to total extinction as only 0.01% survives. This is a last moment effort to keep this very rich and beautiful forest on earth. As part of our reforestation effort we are also working on water conservation and soil management. Our projects include the work with local children, hosting many groups of people interested in conservation, the UniverCity of Compassion and an animal sanctuary where we care for rescued animals. We practice an eco-friendly way of life including veganism, alternative construction, solar energy, biodegradable toiletries, and compost toilets. Volunteers mainly pl
ant, mulch, and water trees during the season, work on water conservation in the forest and around the community, cook, clean, maintain the community area, and spend time with local and community kids.
any time
Required Skills
Permaculture

Forestry

Vegan Chef

Carer for Small Animals

Carer for Large Animals

Caregiver for Children

Wildlife Rescue Rehabilitator

Permaculture

Forestry

Vegan Chef

Carer for Small Animals

Carer for Large Animals

Caregiver for Children

Wildlife Rescue Rehabilitator

Permaculture

Forestry

Vegan Chef

Carer for Small Animals

Carer for Large Animals

Caregiver for Children

Wildlife Rescue Rehabilitator