Want to apply for this work? Sign up below - it's Free to use.
Let the host know you have the skills they need and available when they need you.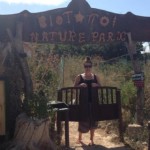 Click pic to see host profile
Workers Wanted for Environmental Park on Crete, Greece
Workers help with the guided tours is very important. Often we need to do some construction work or repairing, cleaning, painting and whatever else the park needs to be ready for the visitors. The park is not a botanical garden and not a zoo; it is more of a protected and enriched natural area, with only necessarily applied changes to make it easier to visit and safer for the species that it includes. For workers, there are good organised camping conditions with tents or caravans, food is included and the working hours are 4-5 a day,6 days a week or 5-6hrs/5days (depending on the needs of the park and yours). There is free Wi-Fi, PCs and some sports facilities for your free time in the park, the 15km beach is close and there is also a walk to the beautiful Venetian town of Rethymno(1,5km downhill), or an excursion to other parts of the island, which is something we suggest our workers to do.
any time
Required Skills
Tourism/Hospitality

Tour Guiding

Construction

Cleaning

Wall Painting

Tourism/Hospitality

Tour Guiding

Construction

Cleaning

Wall Painting

Tourism/Hospitality

Tour Guiding

Construction

Cleaning

Wall Painting