Few years ago Linda converted a bare paddock into 5 cottages, set on 30 private breathtakingly beautiful natural treed acres of organic farm and native animals. Now those cottages are well-known as Noosa Avalon farm Cottages – fully self contained holiday accommodation. Its nice location (it is surrounded by 9 mountains) makes this place really special, unbelievably beautiful and attracts visitors
There are a lot of amazing places to explore in the neighborhood.
Linda hopes to host few volunteers to help her about her farm. She is ready to provide them with excellent accommodation – small private chalet overlooking Avalon lake. Avalon is great for families, children, honeymooners etc. You can live under the blue sky among green hills, close to other Australian lakes and national parks. Here you can enjoy kangaroos, native animals, butterfly and bird watching, walking and horse riding trails, fishing and swimming as well, as Eumundi art galleries, museums, restaurants.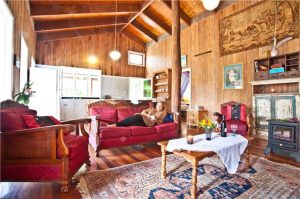 The host would expect you to work 4-5 hours per day, 5 days per week  can be more or less, depending on the current work). The type of work depends on the project and your skills. There is always something to do: weeding, planting trees, mowing, restoration, cooking, cleaning, painting, building, marketing ideas, new brochure, fencing, anything to do with small business and the land. You will never get bored here for sure.
Moreover Linda is ready to provide with meals, a glass of wine, Internet for you to stay in touch with family and friends, and she will take you out for local experiences. She would love to hear from open-minded, friendly helping travelers and would really appreciate your capability to work unsupervised.
Sounds like really great chance to see Australia with all its natural beauty and get really interesting farm work experience.