DogSledding Iceland is a family owned business with Siggi (Icelandic) and Klara (French) at the head of the company. It was founded in 2007, right now they have about 60 sled dogs, mainly Greenlandic, few Siberians and are growing into Alaskans.
The extraordinary family invites you to be a part of their team and to live on a glacier with them and their dogs. As they say "dog sledding is not a job, it is a lifestyle". They emphasize that their offer is not for everyone, saying "where other jobs or volunteer positions end, our work has only just begun". They received a lot of applications from hundreds of people. Those who have succeeded have displayed an immeasurable passion for their work, an unyielding commitment to the four-legged crew and a willingness to learn and further develop their skills as guides.
The host family is not trying to encourage volunteers to come because of nice Icelandic views or to attract you with fluffy dogs.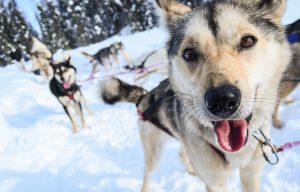 It is a common truth that Iceland has the most austere environs in the world and if you apply to this position, it means that you are ready to meet all the difficulties. You will be cold, wet, tired, mentally fatigued, emotionally exhausted, hungry and miss the comforts of conventional living. Regardless, you will work with professional guides that are expected to deliver uncompromising service to our dogs and guests despite our own discomfort. They offer you to share their own experience that will help you to change your lifestyle. They are looking for applicants that have already displayed an ability to overcome adversity and are capable, competent, motivated, and willing to learn. They would love to hear from someone who is ready to help with morning and evening feeding, cleaning the kennels, equipment, and facilities, someone who could assist with greeting the guests and preparing the teams along with the guide, taking off and coming back, grooming the dogs.
If you feel that this work is something you could and would love to do – please apply and get your warm clothes as Iceland with all its snowy glory is waiting for you.