Cambridge is a beautiful county town, well known for its university. It lays claim to having one of the highest concentrations of perfectly preserved historic buildings, centered around Cambridge University's 31 colleges.
Refined Cambridge is rich in tradition, but "tradition" is not a synonym of boredom, as the town is crowded with students, so it reflects its own young energy along with the impressive ancient atmosphere. And London is only 45 minutes by train.
You can go punting on the River Cam, enjoy a picnic in the park, and explore the city on foot or from the seat of a bicycle. You can enjoy its cultural opportunities (theatres, cinemas, galleries), you can become a part of the everyday life of the town, meet locals and students in local pubs in downtown.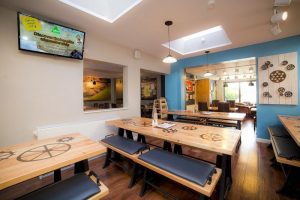 All of it becomes possible with Working Traveller.
Cambridge Youth hostel (YHA – a part of the Hosling international network ) is located 15 minute walk from the city centre,  and looking for a volunteer to help them keep the hostel clean and cozy. YHA is located in the university town, it was completely refurbished in 2014 and offers 122 (dorms and private rooms). As a volunteer you can be involved in any kind of work: from serving drinks at the bar to cleaning the rooms. In exchange they offer a private room in the staff house reserved for a volunteer. You can cook your own food on site or buy a meal from the restaurant for £2.
Here you can improve your English, as they have a lot of English speaking clubs. You can explore the ancient and beautiful English town. You can visit London as well and – what is also great advantage – you will get a working experience in one of the most famous hostel chain in England and Europe.
So do you still think that travel in United Kingdom is too expensive? Take this chance and prove yourself the contrary.