What if an active user of famous CouchSurfing  service decides to run a hostel? It should be amazing place, right?
Constantin has transformed his own house into a hostel and looking for volunteers to help him to take care of it Who could understand the spirit of such place better than traveler?
The hostel is located in the small village Rosu. Next to Cahul, this is third-largest city in the south of the Republic of Moldova. Constantin assures that such country side life experience will bring you some peace, tranquility and makes you feel the rhythm of nature.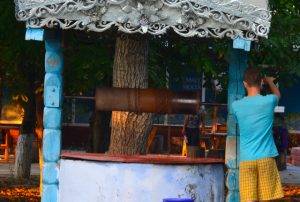 He assumes there is not so much hard work to do, just general assistance, like cleaning, cooking, guiding guests, some charity work as well. He also can ask you to help with the website promotion and to feed his dog if he is away. Constantin will work with you, will share his knowledge of gardening using permaculture principles and – what is more important – will host you and make his best for you to enjoy your time at this house. Moreover, amazing nature of south Moldova is fascinating, especially in spring and summer.
The host is vegetarian, sometimes he makes practice of raw food diet. If you are interested in such study and lifestyle that is something you can also learn from him. As for accommodation – you are welcome to stay at the hostel. Vegetarian food is also provided by host, but you can cook together as well.
This is a great opportunity to enjoy the calm countryside life at the south of Moldova – picturesque vineyard region of the country.