'Glamping' is a mixture of glamorous and camping. And a great chance for you to work outdoors in sunny Italy.
The Glamour Camping, known as Glamping, is located on the Italian heel in South Puglia. Deluxe canvas tents are sited on 5 acres near the Salento coast. One kilometer away from tropical beaches with a blue sea.
It is famous for its beautiful breathtaking views. This is a place for relax, re-charge and refresh for young couples and families. The whole area has an authentic rural and romantic atmosphere. The hosts are very open and friendly people.  Guests usually stay from 3 days to 2 weeks in luxury bell tents, with their own showers, lounge, eco and outdoor facilities. Many guests tell that their open-air cinema is unforgettable experience, especially watching Star Wars under stars.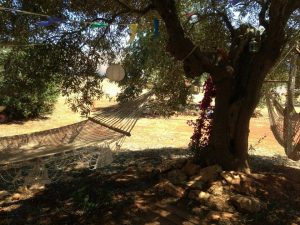 Hosts start to set up the camping in April and May and get it ready for opening in June. They take it down in the end of September – October. So they need volunteers to help them with general tasks. To set up and repair tents, to attach sun shades etc. You may be asked to help with painting decking, planting flowers, putting solar lights, raking and moving lawn. Even help with taking photos of the campsite will be appreciated as well.
Before opening the season working travellers can live in the double guest room in the house. When the season starts the hosts offer own bell tents (6×4). Volunteers will also have own outdoor toilet, shower, and kitchen.