Kraków is the second largest and one of the oldest cities in Poland believed to be founded on the defeat of a dragon. But don 't think that Krakow is kind of boring old European city, just take a look at its night life.
What is it like?
This is an ancient Polish capital, stuffed with cafes, bars and clubs, filled in with students and a generous measure of ex-pats and young tourists on holiday.  If you want to know which is the best party in Krakow, you will soon find out, that it is everywhere.
They say this city never sleeps. If it sounds great for you and you are definitely party person, why don't you try yourself in party organization?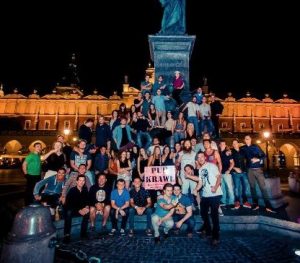 Out new host in Krakow offers to work for the best local pub crawl/tram party, promoting and leading the pub crawl and other fun events they run. Among other responsibilities: just partying with the people on the pub crawl, making new friends and being active.
What they offer instead? Free alcohol, free accommodation, and some food. Here you can not only spend a good time but will be able to earn money from promoting, leading pub crawl and other events.
Sounds exciting? Well, it is. Be first to apply!