The Amapondo Children's Project (ACP for short) started in 2001 and was registered as a non-profit organisation (048-276-NPO) in 2006. Port St Johns, where we are based and operate from, is situated in the heart of the (old) Transkei, which is amongst the top 10 poorest regions in the world.
The Volunteer Program encourages groups and individuals from all over the globe to come and assist at any of the projects under the ACP's wings and provide their individual skills and know-how in the areas where they would bring forth the most change and effective, a positive development.
Their main ongoing Projects are the Mthumbane Pre-Primary School and the Port St Johns Junior Secondary School, but we also support the Port St Johns Youth Centre, the Amapondo Gift Shop and Designers and other local initiatives.
The Mthumbane Pre-Primary School is a two classroom educational institution for children aged three to six. There are between 60 and 80 pupils registered at the school: for the 2016 school year, there are 64 children registered.
The Port St Johns Junior Secondary School was founded in the 1930s and is a fixed value of the Port St Johns community. The school is based in the centre of Port St Johns, which makes it highly accessible to the children of the town.The school consists of several classrooms, offering education from Grade R up to Grade 9.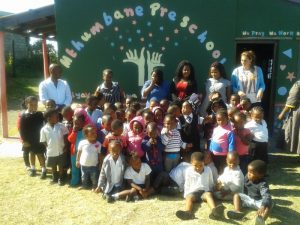 They offer short or long term packages to our volunteers, all of which are designed as fundraising initiatives.
Currently, the hosts are looking for teacher assistants in both their schools.
Basic volunteer packages consist of the following:
Accommodation at Amapondo Backpackers Lodge (in a dormitory)
Transport to the Community Projects as required
Cultural tours
Administration and support through our Project Manager (including free Wi-Fi)
A 24/7 availability of our Volunteer Coordinator
Financial contribution to the Community Projects
Volunteers work from Monday till Friday and are free during the weekends. They add cultural tours to the packages, so that whilst volunteering with the ACP, as volunteers also get the chance to get to know the people and the culture of the Wild Coast.
Applicants with specific skills or qualifications are highly appreciated but young adults who are looking to develop their skills and want to gain experience through volunteering, are equally welcomed into the Volunteer Program.