A family with three children runs a small tourism company with nature adventures "Aurora borealis" 40 km from Vindeln. They offer dog sled tours all year around, but also Stand Up Paddling, kennel visits and much more.
Their goal is to be as eco-friendly as it is possible. They try to minimize the negative impacts on local nature and culture, contribute actively to nature and cultural conservation, promote knowledge and the joy of discovery. Driving a dog sled is a wonderful and exciting adventure. Sweden's North is one of the least populates areas in Europe and therefore the best place to experience wilderness as its realest. And what could be a better way to do so then driving a team of sled dogs on our wooden Oinakka sleds through forest, over wetlands and on snow-covered trails and roads. Their dog sled tours are also labelled with the quality label Nature's Best. Nature's Best is a pioneering label for ecologically and socially responsible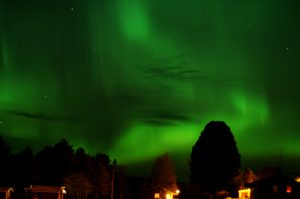 At the farm they have 50 pure siberian huskies, cats (pixie-bobs and bombays) and horses (one Irish cob and two Icelandic horses). They need help with building fences, fixing doghouses, gardening, train the horses, but also IT and some carpentry. They would gladly accept few volunteers to help them. They always work close to our workers like one team, so it is important for them to accept easy going and responsible travelers, who could work independently. Would be great to hear from travellers wiling to stay from 1 to 3 months. They coul offer you tours with stand up paddling, river rafting, fishing, great nature, cooking outdoors, dog activities.
We would be glad to help working travellers to take advantage of this unique experience as staying at such place.