Our host grew up in a small desert village, called Barna, along with his uncle they run a camel safari for 10 years and had a great experience. Later the host found a hostel in the heart of Jaisalmer Fort, they offer camel safari treks for their visitors. They also have a small café with traditional cuisine.
The host would love to accept few travellers all year round. For those who come for a short term, there is always some work in the guesthouse, such as cooking and creating a hospitable atmosphere for guests, also the host will gladly accept any help with learning English and computer. But long-term volunteers are also warmly welcome to join a team aimed to embody a big dream of the host – a conversion of two mud houses into a school for local children. As there is a huge problem there with a level of education.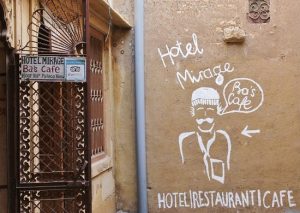 His big ambition is to set up a school free of charge for children from poor local communities in one of his houses. Along with volunteers, he would like to rebuild his houses and to make this place harmonious with some paintings, decorations, planting flowers or anything you think would be good to attract these children. Later he would like to accept more volunteers to help with teaching and sharing their life experience with local children. This is a way to help those people and your contribution will be appreciated. You can build a new community and change someone's life. The host is ready to provide volunteers with a simple bedroom with a shared bathroom. Traditional Rajasthani meals are also served here for you. There is also an option to sleep outdoors on the rooftop under the stars and to feel a nice breeze on your face.