Ben Green is a host on Working Traveller, providing paid and free opportunities (in army barracks in the forests of Saxony, Germany) to experience a totally remote, self-sufficient living.
The host location is an opportunity to escape from a metropolitan city environment with the nearest shop about 20 miles away.
His retreat is totally vegan and anti-alcohol; a private room/ bed is provided in the barracks (that has the ability to accommodate 300 beds); work starts from 8.AM with a large break (to avoid overheated working conditions) then begins later in the afternoon.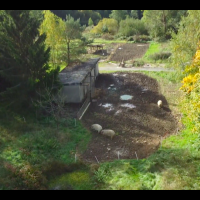 A work reference will be provided for future employment purposes to travellers hosted by Ben Green. A great way to boost up an international CV for prospective employers in your home country or overseas.
He currently, has 5 active work posts on our site Working Traveller:
Grounds person
Vegan Cook
Taking care of pigs
Gardener X2
For more information on this host you can read the following articles from the Guardian and Italian Vanity Fair as well as watch a video from German TV:
Guardian: https://www.theguardian.com/environment/2022/aug/06/change-is-coming-meet-the-englishman-prepping-for-climate-apocalypse-in-an-old-german-barracks
Italian Vanity Fair: https://www.vanityfair.it/article/germania-ben-green-autosufficiente-apocalisse-clima
German TV: https://www.rtl.de/cms/ohne-fliessendes-wasser-oder-heizung-englaender-lebt-autark-im-saechsischen-wald-5012310.html