Gianni House is searching for some volunteers who would like to come and help in Sicily. Their hostel is located in beautiful Taormina/Giardini-Naxos, Sicily. They are located 300 meters from the sea and 200 meters from the city center of Naxos.
The hostel is located at the foot of Mt. Etna, so watch out for lava: you can see the volcano erupting over breakfast on the roof garden! Gianni House would like to accept one enthusiastic receptionist for the months of May, June, July, August, September and October 2017 here for a minimum stay of at least one month. It will be a huge advantage if you speak French, German or Spanish.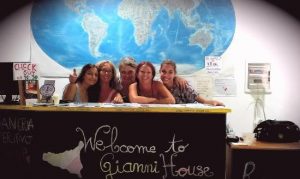 They have prepared a bed, free breakfast and other facilities for their volunteers. Also, you will get free Wi-Fi and bicycle to make it easier for you to explore this beautiful city and to plug in the Sicilian culture in your free time.
Some of your responsibilities will include: welcoming guests on arrival, help them to check in and check out of the hostel, taking payments and of course be happy and have fun.
This is a good experience, especially if you make a career in this field.