Greece Is Waiting for You – Don't believe the hype.

---
1. The News Has Been Misleading
Been wondering about Greece? Haven't we all. The rumours have been flying – banks without money, riots in the streets – and the truth is that such news stories show a very distorted picture. While things are certainly in transition, the thing Greece really needs is for things to carry onward and upward.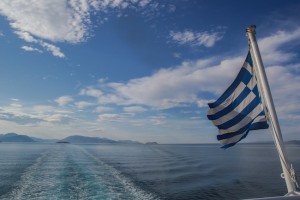 ---
2. Hosts Need Volunteers NOW
I have been talking to a number of Travellers and Hosts in Greece in the last week and their feedback on travelling – and working – in Greece right now has been overwhelmingly positive. Believe it or not, hotels, resorts, hostels, farms, and beyond are running as usual and are even fully booked – summer as usual. If you want to support the Working Traveller hosts in Greece, getting some work booked up with some of them and staying as a traveller in others is a great way to do it.
Search Working Traveller
to find out the latest Greek work postings!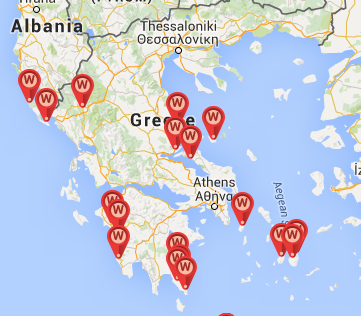 ---
3. Incredible Islands & Coasts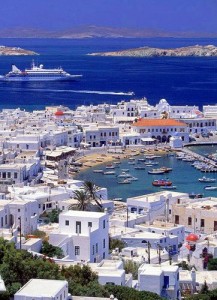 The reputation of the Greek islands certainly preceeds them. From the famous islands of Mykonos and Santorini to the hidden coves of Antipaxos, some of the most beautiful places in the world are yours to explore.
There's something for everyone, whether you're keen on some beach time, tasting the incredible seafood, or enjoy the sprawling white and blue homes rising above the ocean.
Hotel Kouros on the island of Naxos is a great example of the types of Greek Island hotel / guest house hosts that are waiting for you. For 4-5 hours of work each day, you'll get a shared hotel room and your meals included.
Hotel work usually includes helping at the bar or restaurant, doing sheet changes and light housework, and reception and hospitality type services. You'll have more than enough free time to explore the sights, sounds, and tastes of the islands.
Check out Hotel Kouros' work posting on Working Traveller.
---
4. Magical Mountains
The Greek coastline and ancient ruins definitely dominate in terms of the average traveller's understanding of what is on offer in the country.
If you take that at face value, however, you'll miss out on what is some of the most amazing countryside in Greece.
Central Greece is covered with rolling mountains and rocky outcroppings. In particular, Meteora and Thessaly stand out as incredible places to visit – and work.
High above Meteora, long ago monks decided that the top of incredibly high mountains. Less expensive than the capital, this part of Greece is not to be missed.
---
5. Amazing Athens
Oh, Athens. On first glance, it isn't really the most beautiful of cities. But the capital city of Greece is a bubbling, brewing, magical place – and a great one to spend a little more time in than on an average trip by staying to work as a volunteer. From the incredible ruins of the Parthenon to the flea markets, museums, and eclectic nightlife, Athens has everything to offer.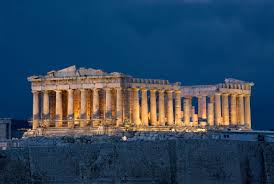 If you're planning on going to Athens in the near future, the tips I've been hearing from hosts and travellers is to – and it should come as no surprise – be alert when using ATMs, which do NOT have limits for those with non-Greek bank accounts (currently, Greek account holders are limited to 60 Euro).
Keep your wits about you in large crowds, as there have been a few demonstrations that got out of hand. If you take any especially unusual medications, it is (as always) advisable to bring a full supply (but do check the rules beforehand!). However, on the whole, things are looking good for your visit.
---
6. Some of the Best Hostels Around
I admit, I've worked in a lot of hostels, so I'm a bit biased on the awesomeness of the hostel volunteer experience. However, if you're looking for an incredible way to stay for a while, build up a bit of hospitality experience, and perhaps… party a little… then Greece's hostels are where it's at. From Corfu's deservedly-famous Pink Palace to the more relaxed backpacker chill outs, there's a hostel – and a hostel job – for every personality.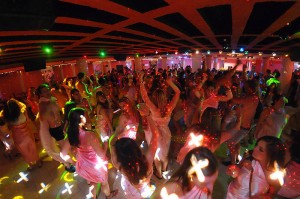 Many hostel jobs come with perks – like helping (and getting to have fun too) guiding adventure watersports, pub crawls, and the like. The combination of cheap drinks, fun people, and endless sun is more than enough to make you want to work at a Greek Hostel.
Check out this Pink Palace work posting on Working Traveller.
---
7. The Land of Olives
If you like doing farm stay work then Greece has amazing options waiting for you. Greece is known for its olives – and its olive oil in particular. In fact, at the New York International Olive oil Competition, thirty-five Greek extra virgin olive oils nailed the honour of "Best in the World 2015".
There are many olive farm home stays that accept volunteers to help with work. Gardening, olive picking, and help around the farm is the usual work required, in exchange for a room and meals with the family.
La Maison Vert Amande is looking for help – check out their Working Traveller posting.
---
8. Adventures in Crete
Crete, to the south of Greece and its islands, has its own storied history. Crete is the home to ancient myths and modern fun. You can enjoy the sun and sand – as well as explore the unique natural world of this Mediterranean gem.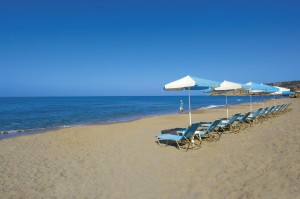 If you love things green, Environment Centre Biotopes needs volunteers to help with many tasks, from cleaning, painting, and construction to helping the park get ready to accept visitors.
Like most volunteer work postings, they offer wi-fi, meals, and a place to sleep – plus use of park sporting facilities. Check out their posting on Working Traveller.
Also on Crete, you can enjoy getting some hospitality industry experience by doing a work exchange in one of the many gorgeous hotels.
Check out Pegasus Resort's work posting.
---
9. The Spectacular Second City
Salonika, or Thessaloniki, is far more than just Greece's second largest city. The coast that stretches toward Turkey is a glorious part of the world, steeped in history and home to Mount Olympus. Salonika is a roaring good time, filled with university students from Greece – and beyond – and featuring a really kicking nightlife.
The city is an excellent entrance point for exploring Greece. Jumping into this energetic city will jump start your adventures around the entire country. If you choose to come and work in Salonika, you'll find that theatre and arts are buzzing, and nights on the waterfront with an ouzo will make you wish you could stay forever.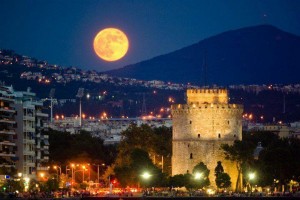 ---
10. The Memories Will Last A Lifetime
Volunteering – be it at a hostel, homestay, hotel, or nature reserve – is an incredible way to experience a new place. This summer, Greece is a fantastic choice – and the volunteer work options are huge. You might leave (or maybe you'll choose to stay forever?) with callouses or a new flair for bartending, but you will also definitely have a huge number of new friends, memories, and skills.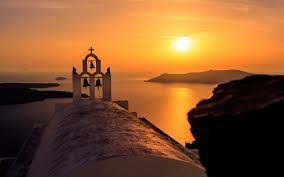 ---
Want to be a Working Traveller? Join as a Host or a Volunteer with just a click!
---
Charlotte @ Working Traveller
Charlotte is the Working Traveller Host Support Manager. She loves to travel and is currently wandering through Eastern Europe, accepting drinks from locals, riding trains, and street pretzels. You can reach her via email.