"Alma Retreat" is a nature retreat concept for all those that seek inspiration and motivation to reach and exceed their personal goals. This is a perfect place for those who need to redress the balance sometimes. They are looking for Yoga, Fitness instructors and Raw food/Vegan Chef. 
"Alma" means 'soul' and retrieving the soul is the main goal persuaded here. Alma Retreat is a real oasis in a desert, located just one hour drive from Dubai, and the place to escape from the daily routine. Sleeping in tents, rooted in nature in a real "glamping" in the middle of a desert is so different from a usual lavish lifestyle of UAE. 'Inspiring the mind, changing the body and unlocking creativity' are the basic ideas of this place. There are 15 cabins with a capacity to accept up to 30 guests, comfortable bedrooms with open sky bathrooms. The community hall overlooking the desert with space for 30 people to eat, play and work (a selection of inspirational books, fun games and multimedia equipment is available). Pits for bonfires will keep you warm whilst gazing at the beautiful night sky.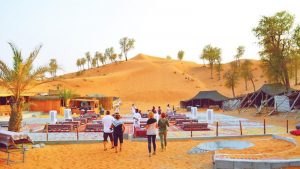 They have an outdoor gym and all necessary Barbeque equipment, a small swimming pool and ice bath. There are differently themed diet weekends with 100 percent organic food supplied by Alma's partners that include Detox Delight and Greenheart Organic Farms. And of course, they offer daily yoga, meditation and creative classes.
You have a real chance to become a part of "Alma Retreat" team. They are looking forward to hearing from working travellers with special skills: personal yoga and fitness instructors and Raw food or Vegan Chef. Successful candidates will be awarded free food and nice accommodation by the beach in Al Hamra.
To live and work in such place is a lifetime experience for sure.