Would you like to volunteer for free surfing classes?
Portugal is a famous surfing destination for surfers inside and outside Europe, because of its very mild climate with solid surf.
Offshore morning breezes are common thing here. Portugal has a huge variety of waves of all sizes and which makes it a perfect surfing location for surfers of all abilities. If you have never tried surfing, but always dreamed to – this country is an ideal place to start.
Our new work post is your chance to spend a great time in this sunny country, get a real working and surfing experience by helping our host to run his Beach lodge. It is situated right on the beach and in fact you will not be able to get any closer to the water than this. At the same time you will enjoy the magnificent view of Atlantic Ocean, listen to the restless waves and smell the fresh breeze. You can live in this lodge, get free food and have an access to all surf spots.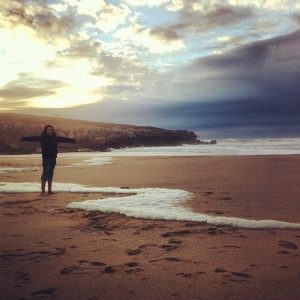 Our host needs any kind of help, so just use your imagination what you can offer in exchange. Currently, he is looking for volunteers to help with cleaning, cooking, who is able to do some carpentry for him and assist with customer support. Are you a dancer, a singer, a surf or yoga instructor? You are more than welcome to apply! Just get your talent and ass here. This is an amazing place and great atmosphere you can be a part of, even if you are not interested in surfing. Praia da Foz do Sizandro can be a place to relax, to dream, to to get in peace with your inner self.