If you are looking for some extraordinary place to visit, check this out. This place in Montana has already become the experience of lifetime for many people. You can get can get a chance to join the dream team of biologists and work at their ranch in the USA.
Once upon a time two wildlife biologists met in a magical wild west wonderland of Montana. Their true love for environment, ranch and especially for bisons, gave a birth to an extraordinary ranch that invites you to plug into the world of wild life. Here one can spend a vacation of lifetime, experience the wilderness of the Big Belt Mountains. They also own a Montana reserve where a herd of bison reside.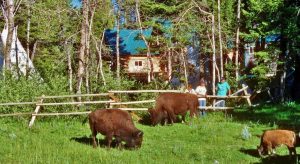 The ranch is hosted by nice and friendly people. They accept volunteers during summer who can help them with a bison reserve and a guest ranch. So you need to be ready to any kind of job. For example they may ask you to do the fence repair, work on water pipes or tanks, or put up fences to protect wildlife habitat. While accepting the guests, host expect volunteers to help with the housework, cooking etc. In other words, you will live in a big family and act as one team to keep the ranch.
The hosts offer 2 bedrooms downstairs with a kitchen and bath. Usually they can accept 4 volunteers at a time. You will be able to come here anytime from May to August. On top of that, there is an open position of Volunteer supervisor for those who can stay at least for 2 months. It is also worth nothing that they have a tradition of family style dining. You will have a dinner all together at the ranch.
They will take into consideration your special food lifestyles. If you are vegan or vegetarian – please inform them beforehand. Hosts will supply you with a proper food upon your tastes. Though junky food and snacks are not something you should expect to eat here. So if you can't live without chips – just bring it with you.
Montant, the USA, bison reserve, fresh air and wild nature landscape. If that is something you are looking for, don't miss the chance to include it into your trip plan.