Sebezh is a town in the East of Russia, located at the border with Latvia and not far from Belrus.
A family of four: Vladimir, Julia, their child Yasen and their huge dog are living the dream in a little eco village, re-inhabiting 3 abandoned villages, near Sebezh.
The new village they are building is called Clear Sky (Chistoe nebo in Russian). This is a picturesque lans with lake, forest and even a national park nearby.
They have a small tree nursery where we grow thousands of trees yearly, some of them they sale, but they mostly plant them to make the neighborhood better. They are mostly into permaculture and agroforestry.
The family is ready to share their experience in growing trees and forests with volunteers. They are ready to accept travelers all year long, and provide them with accommodation with all conveniences and a kitchen. If you decide to come in summer, they also have a tent camp near the house. They also offer 3 vegetarian meals a day, mostly traditional Russian cuisine.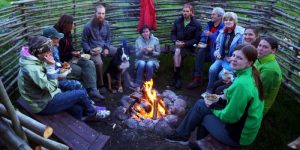 Winter is a time to harvest firewood, clean up a space to plant new seedlings later this year. So if you decide to come in winter, it would be nice to bring your ski and chainsaw. Starting from April they begin to dig out seedlings from an open soil and plant them into plastic bags. They change their plant nursery from bare-rooted to close-rooted and container based growing. They prepare the soil, digging 2-3 years old plants out, planting them back. In June they start collecting some herbs. It's also time to pick some fresh seeds and plant it. Autumn is a time for picking apples and other fruits, and to collect and prepare seeds for the next year of course. In November, they stop with the nursery and start harvesting firewood, cutting down old and weak trees, clean up space for new plants. So there is always some work to do and they look forward to hear from volunteers willing to help them to bring a new life into their eco-village.